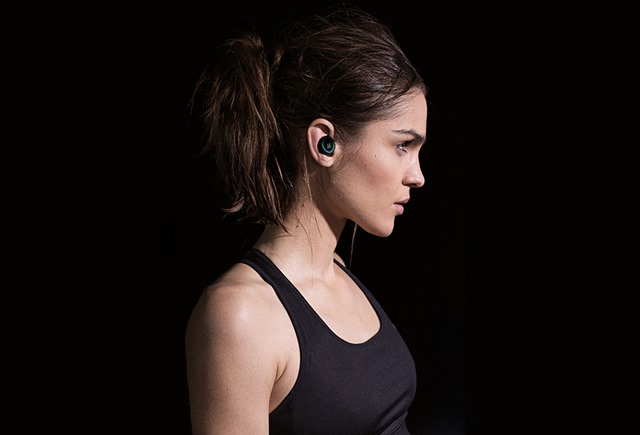 독일 뮌헨에 소재하는 BRAGI사가 세계 최초 무선 스마트 헤드셋인 'Dash'를 위해 펀딩 모집을 시작했다고 합니다.
디자인은 마치 보청기와 같이 귀에 직접 끼워서 사용할 수 있다고 합니다.

Dash는 자유로운 이동과 최대한 편리성 및 놀라운 사운드를 제공하기 위해 디자인되었습니다.
Dash는 내장된 4GB 메모리 용량으로 1000개의 MP3 파일을 저장할 수 있으며, 또한 스마트폰과도 블루투스로 연결을 하여 음악을 즐길 수도 있습니다. CD수준의 무선 음질을 블루투스로 제공하기 위해 aptX® 기술을 사용합니다.
또한 Dash는 달리기, 걷기와 같은 이동을 추적하고, 심박수를 측정하고, 에너지 소비 및 산소 포화도도 측정합니다. 그리고 스마트폰이 없이도 활동하는 동안 음성으로 피드백을 받을 수도 있습니다. 이를 통해 최대/최소 목표를 정한대로 운동을 할 수 있습니다.
아래 그림은 Dash의 간략한 구성도입니다.
iOS 및 안드로이드용 앱도 제공되어 있습니다.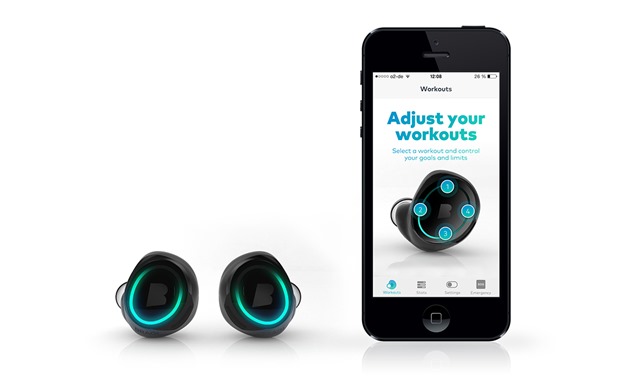 다음은 Dash의 기술사양입니다.
General
› Lightweight, Shock Resistant and water resistant to 1 m
› Lost Device Tracking function
› Smartphone sensors and GPS data provide additional functions if your phone is with you
› iOS App (later Android) controls audio, sensor and tracking settings as well as a Lost Device Tracker
Speaker
› Type: In-Ear Style, double barrier passive noise isolation
› Response bandwidth 20-20000 Hz
› Impedance 16 Ohm
› Output 10 mW RMS (with level limit)
› Total harmonic distortion <2% (1 KHz, 1 mW)
› Audio format: 16 bit stereo
Microphone
› Custom Bragi Ear Bone MEMS microphone
› Ambient microphone: MEMS omnidirectional, Sensitivity -43 dB +3/-3 dB (1 KHz, 0 dB = 1 V/Pa)
Bluetooth
› Dual Mode Bluetooth 4.0
› Audio compatibility with classic Bluetooth devices (A2DP profile, CSR aptX® audio codec)
› Full compatibility with Apple: iPhone® >= 4S, iPod® Touch 5th generation and later, iPad® 3rd generation and later
› Full compatibility with: Android: any device with Bluetooth LE hardware running under Android version 4.3 Jelly Bean (API Level 18) or later
› True Wireless Audio
› CSR aptX® audio codec
› Up to six paired devices (One at a time)
› Bluetooth sound overrules embedded playback
› Embedded music player: 4GB data storage. MP3, AAC (No DRM)
Controls
› General: Volume, audio transparency, pair devices
› Music controls: Play, pause, next, back
› Only embedded playback: Shuffle, select playlist
› Communication controls: Answer, end, reject, hold
› Tracking controls: Start/stop, 3 upon demand feedback macros, forced feedback on minimum, maximum and time goals
› Sync music via USB 2.0 and sensor data via USB and Bluetooth
Battery
(expected)
› Play & track time 3 hours
› Play time 4 hours
› Standby time 250 hours
› Charging time less than 1 hour
› Charging: USB (power plug not included), DC 5V 200mA
› Type: 100 mAh Lithium Polymer
Compatibility
(needs Bluetooth LE for full functionality)
› iPhone® 4S, 5, 5C, 5S
› iPad® (3rd generation and later)
› Android phones with Bluetooth 4.0 LE support (See detailed description »Bluetooth« above)
› Limited support for Windows Phone and Blackberry
› FOR AUDIO SUPPORT: Any Bluetooth A2DP or aptX® compatible device
보관을 위한 보관 케이스도 제공됩니다.